Have you ever heard of Yuzuru Hanyu? He is a 21-year-old Japanese male figure skater and currently ranks at the top in the world. He got a gold medal in the 2014 Winter Olympics, and amazingly marked the world record of 330.43 in the Grand Prix of Figure Skating Finals; held in Barcelona, Spain in December, 2015! He broke the score of 300 for the first time in history, whereas before reaching a score of 280 would secure the gold. When he broke the world record, it was said, "A miracle has happened!" and "He has reached the Divine state."
What is a difference between him and us? He is just an ordinary young man in a sense. The difference is that he has removed all restraint.
This year, an 18-year-old Japanese male figure skater named Shoma Uno accomplished a quadruple flip officially for the first time at the Team Challenge Cup, which was held in Spokane, US. In this manner, the current best record continues to be updated. When someone achieves something new, the old goal is updated and the new world-record holder becomes the goal for everyone. Then, everyone's restraints are removed. This world continues with such a succession.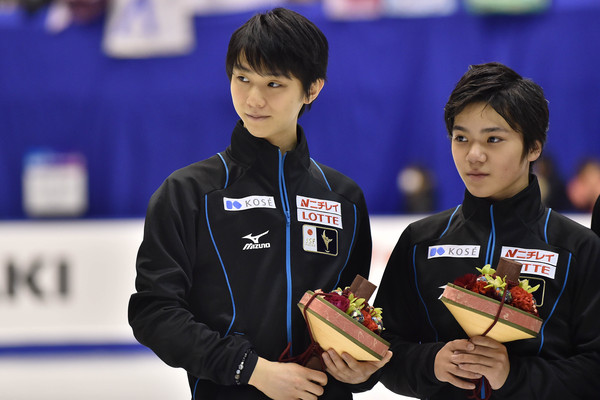 However, many people have a strange mind such as "I cannot do this!" or "I am not good enough!" In a meaning, it is the way they are. But…
Aren't you confining yourself with such assumption?
The truth is that your life goal has no limit. It is you that create these limits. People tend to think like "I am such a person" and try not to do more than that.
If we would like to bloom our potential, we need to remove such hindrance. When most people have an experience, they begin to determine themselves based on that. However, an experience is for removing the resistance. Nevertheless, people own their experiences due to their ego, make them a common knowledge, and continue to be in such a narrow frame. However, the future exists for us to transcend our past experiences. Therefore, it is all right to utilize them, but we should not fix upon them and reach a conclusion based on them beforehand.
This is how to transcend our ego.
Now that we have entered the 21st century, young professionals in various fields including figure skating like Yuzuru Hanyu and Shoma Uno have appeared and blossomed their own potential to expand the human possibility further.
However, here is a little concern. Does the expansion of human potential contribute to humanity or for the livelihood of the Earth? Looking at the current society, many people have a narrow worldview and set their goal only to blossom their own ability. A new era has arrived for sure, but still it is expressed on individual desires. A 15-year-old Japanese genius programmer named Soto Yamauchi, who got first prize at the age of 11 as the youngest in an international programming contest, said, "I would like to contribute to human evolution and think it is cool to advance the human path, rather than become a billionaire!" His passion is the exact goal for humans to achieve in the 21st century.
The time has arrived when humans live with such a broad worldview. No matter how high your ability is, if it does not match with the universal structure or the flow of the era, your high ability becomes a seed for problems in your life and for this world.
Many people who want to create a community have visited the Konohana Family. The important message for them is: This world consists of a circulation of infinite lives. Therefore, a community is not to be created, but simply emerges with the era. When the era is expressed, each one of us is given an appropriate role to express the era, and then we are born on Earth. So, a community cannot be created because you want to do so. On the contrary, those who are eager to create a community express their strong ego. Therefore, it can be said that they are unsuitable for that.
In fact, many of these people cannot see their reality. In this manner, certainly the time has arrived when human consciousness should change.
Various contradictions have piled up in the current human society. However, the truth is that there is no mistake in this world. There is no right or wrong. IF there is a problem, it would be "ignorance (it is written as 無知 meaning "no wisdom" in Japanese)." It is a root cause of all problems. It is the ignorance at the origin of this world, as well as our own existence.
On the contrary, what kind of person would be with "wisdom"? As 無 also means infinity, it is the one who has infinite wisdom. So, it is the person who accumulates experiences infinitely, gains wisdom, and continues to evolve. When people reach such a state, the human consciousness to gratify individual desires will disappear, and they will live as the universal being.
In order to do so, what kind of attitude should we humans take? Originally, we were born to accomplish a mission given by the era, and play a role given by this world. This is the exact meaning for our existence. The individual exists for the whole, and the whole makes the individual exist. Only when these two become consistent, will both individual health and true peace prevail on earth.
When will humans be aware of such a truth? President Obama visited Hiroshima on May 27th. Hopefully, he will visit Nagasaki next time. Now, this has been a very significant topic which that the whole world has paid attention to. The fact that he has suddenly decided to visit Hiroshima indicates that the era is moving forward very quickly. He did not visit Hiroshima for the convenience of Japan or the US. Clearly, this is a sign that the era is facing the next stage.
That is why the young generation with unprecedented talents has appeared recently. They have ignored the common knowledge of the past, including ideas such as "this is the current world record, so there will not be another," removed such limitations, and have been exploring such a new world.
Then, what kind of role has been given to the Konohana Family, and what kind of switch have we turned off? It is to turn off the switch of the "ego". Because we have turned off the switch of the ego, our current lifestyle has been possible. We have already lived for more than 20 years, sharing one wallet and all belongings with everyone in the community. Moreover, we cherish and scold other people's children as our own. How many people in this world can do such a thing? A world without any boundaries has been already achieved here!
However, the range of the ego is diverse from something rough to something fine. Therefore, as a spiritual specialist who faces the ego seriously every day, and removes it beautifully, we will continue to seek this path where people might think, "Oh my goodness! Can humans do that??" We are a specialist in exploring spirituality, and live as a model for the future of humanity.
The era surely removes restriction and continues to move forward. Therefore, removing the limitations of the "ego" is the true figure of our life and our purpose. Now, the era has entered the stage where everyone lives as a specialist in exploring spirituality.
Those who can prioritize removing limitation can live with the era, and contribute to the whole of humanity, and the era.