Now, a thousand paper cranes are hung on the wall in my room. In Japan, a thousand paper cranes are a symbol of longevity, so they are given to people who suffer from serious diseases. The cranes in my room are what everyone, specifically the children, in the Konohana Family had made when I was hospitalized. I found out that I had cervical cancer about two years ago. Then, I lost a large amount of blood on October 26th in 2016, so I became hospitalized right after that.
Kano-chan, a junior high school girl asked everyone to make them together. Then, all of the members from nursery school children to elderly people made more than a thousand paper cranes in only two days. When the cranes were hung from the ceiling of my hospital room, they were like a pillar of rainbow light.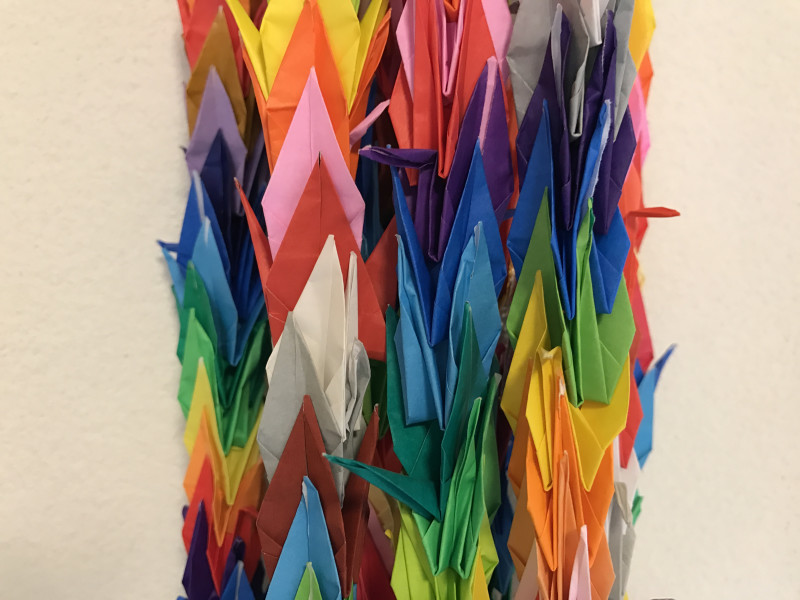 On the day when Kano-chan brought them to me, I was supposed to have an exam to receive radiation therapy. However, I lost a large amount of blood a few days before and after that I had a fever of 38 to 39 degrees Celsius. But, after she came and gave me the thousand paper cranes, my temperature went down suddenly, and I was able to complete the exam successfully. I thought it was impossible for me to do so on that day, so it was a mysterious experience.
The Konohana Family is a big family beyond kinship, where 84 people live together as one family. I gave birth to two children, and in a reached situation like this, my husband took care of me throughout the 24 hours in the hospital. If I lived a traditional life, I might have had many worries such as childcare and housework, but I do not have to worry about anything since I live in such a big family. Not only during my hospitalization, but also daily, biological parents do not have to take care of their own children in the Konohana Family. Before I was hospitalized, I belonged to the vegetable production team and took care of seedlings. And the childcare team takes care of the children, including mine.
Everyone is a mother, a father, a grandmother, and a grandfather for the Konohana children. All of the children are my children, and it is a big family where all of the children are just like siblings. I did not give birth to Kano-chan, but she cares about me in this manner.
When I was hospitalized and a doctor said, "Please call your family," so many people gathered into my hospital room that they could barely fit in. When the nurses came to my room to check my temperature, they became overwhelmed by the number of family members. When I almost passed out, I was surrounded by so many people, my pain was gone, and I felt better gradually. When I was in critical condition, my family (meaning the Konohana members) was called. However, we laughed a lot in my hospital room in the end, and said good-bye. I even said to them, "See you again, everyone."
I am really happy to have met such a wonderful family. Furthermore, it is a family beyond kinship. They are people who question the current society and gather to seek a new way of life for the next era. They are a family with "spiritual connections" who are trying to create a utopia together. They are a very important family for me.
I believe that everyone's thoughts brought me back to this world. When I was sleeping in the hospital, I had many dreams. In one of them, a pillar of light came down from the divine onto my stomach exactly where my cancer existed. It is just like the thousand paper cranes that everyone had made for me.
The power of "thoughts" can curse and kill people like magic, or save them. If everyone unifies their minds and thinks of each other, we can even create a better world.
We do not consider just the Konohana Family as our family, but all people of the world.
Nations fight against each other, and there are even conflicts nationally. Moreover, conflicts do not cease amongst religions, which are supposed to save people. There are political confrontations, and there is also bullying and harassment in schools and work places. Even in small families, or between couples, quarrels occur.
The earth is one and everything is connected. However, borders are drawn everywhere and the earth is divided. When I think of myself, do I have any border in myself? Due to my strong ego, I protected myself, could not express my honesty, and did not understand how other people feel. I protected myself so firmly that it is no wonder that I received cervical cancer.
I received it, reached a dying stage where I cannot do anything by myself, and then I have finally realized that every place around me is full of love. I tried to do everything by myself, instead of depending on other people. I even thought it was better. Reflecting on my past, I think I trapped myself in a really hard shell. Now, I have learned to leave everything to the divine, trust other people, and release myself.
Isadon, the founder of the Konohana Family always says, "I do not have to think of myself. I always think of everyone. I do not need to think of myself because everyone else thinks of me."
It is a world where everyone thinks of each other. I am you and you are I.
If everyone lives for the earth and humanity, a utopia will emerge on earth. In order to do so, first, I think I should remove the walls I have made around me.