Korean girls called Somin (10-year-old), Shanrin (10-year-old) and Ieyon (8-year-old) and Shanrin's mother named Linlin have been staying at the Konohana Family for a summer vacation since July 26th, 2016. They had an opportunity to talk with Isadon, a founder of this community. Shanrin was born and grew up with the Konohana Family until she became one year old, and she continues to come back to stay here with her mother every year. The talk with Isadon began with Shanrin's question.
Shanrin:
Isadon, I have a question! What does "Konohana" in "Konohana Family" mean?
Isadon:
"Ko" means a tree, "No" means of and "Hana" means flowers. So, "Konohana" means a tree which blooms many flowers.
Shanrin:
This means the big tree of Isadon may bloom many small flowers like us!
Isaodn:
Hahaha! This is not true, though. A typical tree flower in Japan is a cherry blossom. They bloom beautifully all together and fall just the same. The goddess of Mt. Fuji is called "Konohana Sakuyahime no Mikoto" and it is said that her flowers are cherry blossoms or plum blossoms. She represents the beauty, graciousness, and transience of life.
What do you think plum blossoms represent? Plums are good for our health, right? So, they represent health and longevity.
There is another typical tree flower. Do you know what it is?
Shanrin:
Peach blossoms?
Isadon:
Bingo! It is said that peach blossoms are flowers of a lotus land in China. A lotus land means a utopia where everyone lives happily. Also, peaches represent eternal youth and longevity.
Moreover, "Ko" in "Konohana" also means individuals in Japanese. For example, each Konohana Family member is like a blossom. When each individual blooms a flower of their life, many flowers bloom on a big tree of the Konohana Family, making a beautiful big blossom like cherry, plum and peach blossoms.
In the beginning, I did not know about the goddess of Konohana Sakuyahime no Mikoto at all. Before we moved to the foot of Mt. Fuji in 1994, we went to see the sunrise at Mt. Fuji for the first time on New Year's Day in the year of 1992. I was walking around the pasture at the foot of Mt. Fuji before the sunrise. Then, Mari-chan, a founding member took some photos of me walking around, and the light always appeared above my head in the photos! If the sun was up, it would be understandable that the light appeared, reflecting my head. However, although the sun did not rise yet, the light appeared in the photos.
When I looked at them, I sensed that the god of Mt. Fuji is happy to have us at the foot of Mt. Fuji. Later, when I went to the city hall of Fujinomiya city to consult about moving in this area, I also went to Sengen-Taisha shrine nearby. I asked a priestess, "Who is the god of this shrine?" Then, she taught me that it is Konohana Sakuyahime no Mikoto, the goddess of Mt. Fuji. I had no idea about what kind of goddess she was, so I asked her about it. Then, she gave me a brochure, which says, "Konohana Sakuyahime no Mikoto represents the beauty, graciousness, and transience of life." Once I looked at it, I knew that this was a way of life we should aim for. That is why, we decided to call our community, the "Konohana Farm." Later, when more and more international people came to visit us, it was renamed the "Konohana Family."
Shanrin:
Isadon did not expect that the Konohana Family would become like this?
Somin:
Isadon is so smart that he knew it would become like this and started the Konohana Family!
Isadon:
Hahaha! I knew this way of life is important.
Somin:
It is very important!
Isadon:
When I was 40, I climbed Mt. Fuji for the first time. At the summit of Mt. Fuji, the divine said to me, "Preach the spirit that you have learned and mastered from the divine to the whole land under the sun." "The whole land under the sun" means the whole world. I received the message to spread the divine spirit to the whole world, so I came to the foot of Mt. Fuji from Aichi Prefecture where I lived before.
Shanrin:
I want to climb to the summit of Mt. Fuji and receive a message from the divine!
Isadon:
Hahaha. Let's climb Mt. Fuji together next time♪
Somin:
I want to go, too!
Isadon:
Sure. I have been to the summit of Mt. Fuji eleven times. When I received the message from the divine, I thought "One day, the time will come when this way of life becomes important for the world. Therefore, I should move to the foot of Mt. Fuji and begin a life to become a model of the world." Then, the Konohana Family began with 20 companies who resonated with the spirit.
Shanrin:
Who came with you?
Isadon:
Eikoba-chan, Ai-chan, Nori-chan, Rei-chan, Mari-chan, Chanappi, Kazuko-chan, Haru-chan, Junji-man, Yasuedon.
Shanrin:
Yoko-chan!
Isadon:
She is not a founding member.
Shanrin:
She did not come with you?? Then, why is she your best friend in the community??
Isadon:
Hahaha! When she came to the Konohana Family for the first time 9 years ago, she said in front of everyone, "I want to learn the divine spirit here. In order to do so, I think it would be the best to learn near Isadon and help his work." Since then, she has been working with me through coordinating the natural therapy program, editing blogs and doing the translation.
Shanrin:
I think her spiritual learning has ended?!
Isadon:
The learning of the spirit continues forever. It is the path to reach the divine.
Shanrin:
Do we reach the divine before we die??
Isadon:
Even if we die, we have to learn. (Everyone laughed at Shanrin's unhappy face.)
Shanrin:
…Then, how about you, Isadon??
Isadon:
I continue to learn the spirit, too. The universe is very vast and complicated.
I knew this way of life is important. So did 20 founding members who came with me. However, nobody knew exactly what kind of life it would be at all. Since we had no clue, we have lived as the divine told us. Then, we have encountered people and events that we could not imagine. This is how the Konohana Family has reached here. I could not imagine this in the beginning, but the important way of life I thought has formed the way it should be.
Somin:
Can I ask you another question? I want to know where people came from!
Isadon:
I do not think people knew how they would become, either. Just like the Konohana founding members, they could not imagine that they would reach the current world. People are born, accumulate experiences gradually on earth and die. Then, new people are born and take it over. People, in turn, have lived on earth and have reached the current world. It is as if people have advanced like going up the stairs of earth. Every time they go up one stair, they come to understand this world and the divine spirit. However, I think that the divine who has been watching from above knows everything!
Where did humans come from? The ancestor of humans are called ape-men and we have become humans from apes. They existed on earth about 4 million years ago. Then, all of a sudden, apes learned to use a tool and fire!
Please imagine. In the beginning, the earth was a very hot planet. There was no life. Then, when it cooled down gradually, vapor became rain and it made oceans. At that time, the volcanic activities were active, so lava came out from volcanos and continental plates hit each other and rose, which made lands. It was about 4 billion years ago.
There was an existence who was watching how the earth changed. It is God. Where were you before you were born?
Shanrin:
I was "Mikoto (meaning living with God in the phenomenal world in Japanese)!"
Isadon:
Yes, we were only souls. It is the same figure as God. So, before souls embodied apes which became the base of humans, the souls of humans existed with God in the divine world and waited for a time when their receivers would become ready. The earth was formed gradually in the universe. Then, oceans were created and so was the land.
It is primitive cells that came down on earth as the first life. It changed in various ways, and became fish in the oceans. Then, they went up on the land and became amphibians like frogs. Next, they became reptiles like snakes and lizards, and divided into birds and mammals. Finally, apes appeared from mammals. When the divine spirit saw them from above, it thought, "They are the best receivers for us to come down on earth!"
There is a Chinese character of "神"and the right part of "申"means apes according to the Chinese zodiac. When life evolved to the stage of apes on earth, the God who was watching the process from above showed (示) the divine will on the body of apes (申). That is why the Chinese character of "神" is an old form of "神 (God)"! The God came down on apes and became the human ancestor of ape-men.
Ape-men and apes are totally different. Ape-men were given divine wisdom. Therefore, they started to use tools and fire.
Somin:
Do the monkeys that God did not enter just remain monkeys?
Isadon:
That is right. Apes that God did not enter continued just as monkeys and became chimpanzees and gorillas. On the other hand, apes that God entered became ape-men, the human ancestors. Humans have wisdom and came to have their own wishes. In addition, they have a high ability, so they became able to gratify their desires. A long long time ago, it was difficult for humans to survive. Therefore, they helped each other to live. However, when they became clever, made and discovered various things, and evolved, they became selfish and greedy, started to lie and even steal things from others and make conflicts!
Somin:
Because humans became greedy, a gap among people emerged.
Isadon:
Exactly! Originally, all the lives were connected with each other in the natural ecosystem. So, in the beginning, the world was not convenient only to humans. However, they thought of only themselves, so they created an artificial world where they destroyed nature. A long time ago, humans sensed the divine energy, talked with plants and animals, and lived with nature. It was to live with the divine. At that time, humans had a mind of "Nature supports our life" and "We receive life." However, the modern people have lived only with their own power and thought, "I am not helped by anybody." So, they have forgotten the existence of the divine.
Nature such as the sun, earth, water, air and wind gives equally to all lives. The reason why everyone can live is because the earth rotates and revolves around the sun, and the sun travels in the universe. That is why, time was born in this world, life was born and we can live every day.
I have realized such an important matter, so I decided to live with gratitude for nature to give us our life. In order to do so, the most important thing is not to prioritize our selfish mind, purify our spirits, and live for the world and others. This is how the Konohana Family has taken its path.
The current people have forgotten such a thing and live with their selfish mind. Therefore, the earth has been full of problems and has become a difficult world for all lives, including humans. Then, the Konohana way of life has become very important for the current world.
Somin:
Is the truth about humans because they are stupid and have a bad mind? Or is there anything else??
Isadon:
Looking at the current world, human activities have been really silly and they consider what becomes their problems as good matters! Originally, humans were divided from God and formed as each individual. Therefore, we have such a high consciousness within ourselves.
People do bad things, feel unpleasant or become sick. Then, they learn what was wrong. People become precious in this manner. However, it is important to realize "Why it has become like this?" beforehand, and change our own attitude even before having a hard time or become sick. It is called "Polishing our spirits." Therefore, polishing our spirits is the top priority at the Konohana Family. Then, our spirits become more beautiful and the world becomes better without going through a hard time.
Somin:
If we do not know that, we will continue to hurt ourselves.
Isadon:
That is right. Such people tend to repeat the same problems. When a trouble occurs, they blame others or society for it, and do not want to reflect on themselves. Therefore, they leave themselves the way they are and try to change their environment, don't they? However, all we encounter in our life is the result of how we have lived.
Somin:
Such people are silly!
Isadon:
They live hard; however, their efforts do not turn out to be a good matter. For example, there is the flow and law of this world. In this system, stars communicate with each other and time flows from the past to the future. However, if you do not know about it, and live only with your thoughts, no matter how hard you live, problems will occur in this world.
You know such a system already, so you can teach it to everyone in the future.
Somin:
It seems like I know what my problem is.
Isadon:
Hahaha. Ordinary people do not know that. Even if trouble happens to them, they just feel sorry about themselves and do not consider what their problem would be. When all humans reflect on themselves and purify their spirits, a beautiful world will appear automatically. However, instead of doing so, people try to become rich by owning money, ask for financial abundance from politicians, or blame others by saying, "My life does not get better because society is wrong!"
Somin:
Leaders have to take a risk, then.
Isadon:
That is right. If the world has not become a great one yet, then it cannot be understood in the society to live with an important way of life. In such a meaning, leaders have to take risks. However, even if many people do not understand it yet, you have sensed that a new era is coming, haven't you? For example, at a place like the Konohana Family, although we do not know what will be ahead of us, we all know this way of life is important. So, we can live like this.
In Buddhism, people aim for "enlightenment." It means not to separate ourselves from other people so that a gap does not emerge. We should respect all lives. On top of that, we should value other people just as we value ourselves. Therefore, they teach to live not only for ourselves but for the world. This is the way of life for great people.
Somin:
In order for ordinary people to be great ones, are religions necessary? Or, if we study very hard, can we become great people?
Isadon:
You are asking about "How can we become like that?" That is the way of thought based on achieving a goal by your own power. The past 6500 years was such an era when people developed science and technologies, competed with each other, and tried to become rich for themselves. However, from the universal viewpoint, the peak of that value came about 3.5 years ago on December 21st, 2012, and such an era has ended already. In terms of religions, the past 3000 years was the era when religions have said they would properly guide people, but at the same time, they have promoted divine favor and gathered people by saying, "If you join this group, you will be happy" or "You can become rich." Also, they have made conflicts by saying, "My teaching is right and other teachings are wrong." In this manner, religious organizations have been established and a gap between the guru and followers has emerged. This was not a great thing at all. The religious side has always thought of protecting and expanding their organization and cheating followers out of money, and the followers' side has only wished for their own benefits. That is why, the place which is supposed to create a beautiful spirit has actually created very dishonorable humans.
Somin:
Now, I know the reason why all the adult and kid members at the Konohana Family live together like friends!
Isadon:
Exactly. Children will live in the future, won't they? The future is a more advanced era, so the level of their souls are higher. That is why, the adults here treat the children just as their company.
Somin:
Children are small adults!
Isadon:
Humans have the age of their souls and bodies. The age of their bodies is a period of how long they have lived on earth this time. We cannot see the age of their souls from that. We can know the age of their souls by what kind of thought they have and how they live. However, older souls are not always better. If possible, it is important to become a person with a high and broad consciousness. That is why, everyone wants to go to the summit of Mt. Fuji. It is said that Mt. Fuji is the mountain of divine wisdom in this world. And our souls know that we can get closer to the divine there.
Somin:
I will spread Isadon's spirit to my school friends!
Isadon:
If you want to spread it to everyone, it would become your value. So, it would be good to do so.
Now, I am answering your questions. I am answering what you want to know, but on the contrary, there is so much information I know. However, it is not a new story for you. You just remember stories that you have in your spirit. That is why, you can accept and understand it right away, saying, "Yes, yes! I knew that!"
Then, even if people around you do not understand it, you can have confidence in your life. Common people in South Korea have not understood such a truly important thing yet. Actually, many people in the world have not understood it yet. So, people who have understood the importance should live the spirit even if many people do not understand it. This is very significant. When we understand its importance, we can have a strong will and accomplish our mission. Let's create a world where everyone lives for everyone and the earth.
Somin:
Then, peace prevails on earth!
Isadon:
Exactly! Not only that, the world will become truly abundant. We will be able to live with less amounts of money. Furthermore, unnecessary things will disappear, so the environment will not get worse. In such a meaning, a very simple and rich world will emerge.
Somin:
From my viewpoint, Isadon appears to be the biggest star out of all the people I have met, but at the same time, he seems just a part of the universe.
Isadon:
Yes, this is the story of humanity. It is a story of the universe. This time, you came to the Konohana Family for the first time. This is just the beginning to work together from now on. Let's have time to talk together again♪
Somin:
Yes! Thank you for the great talk today♪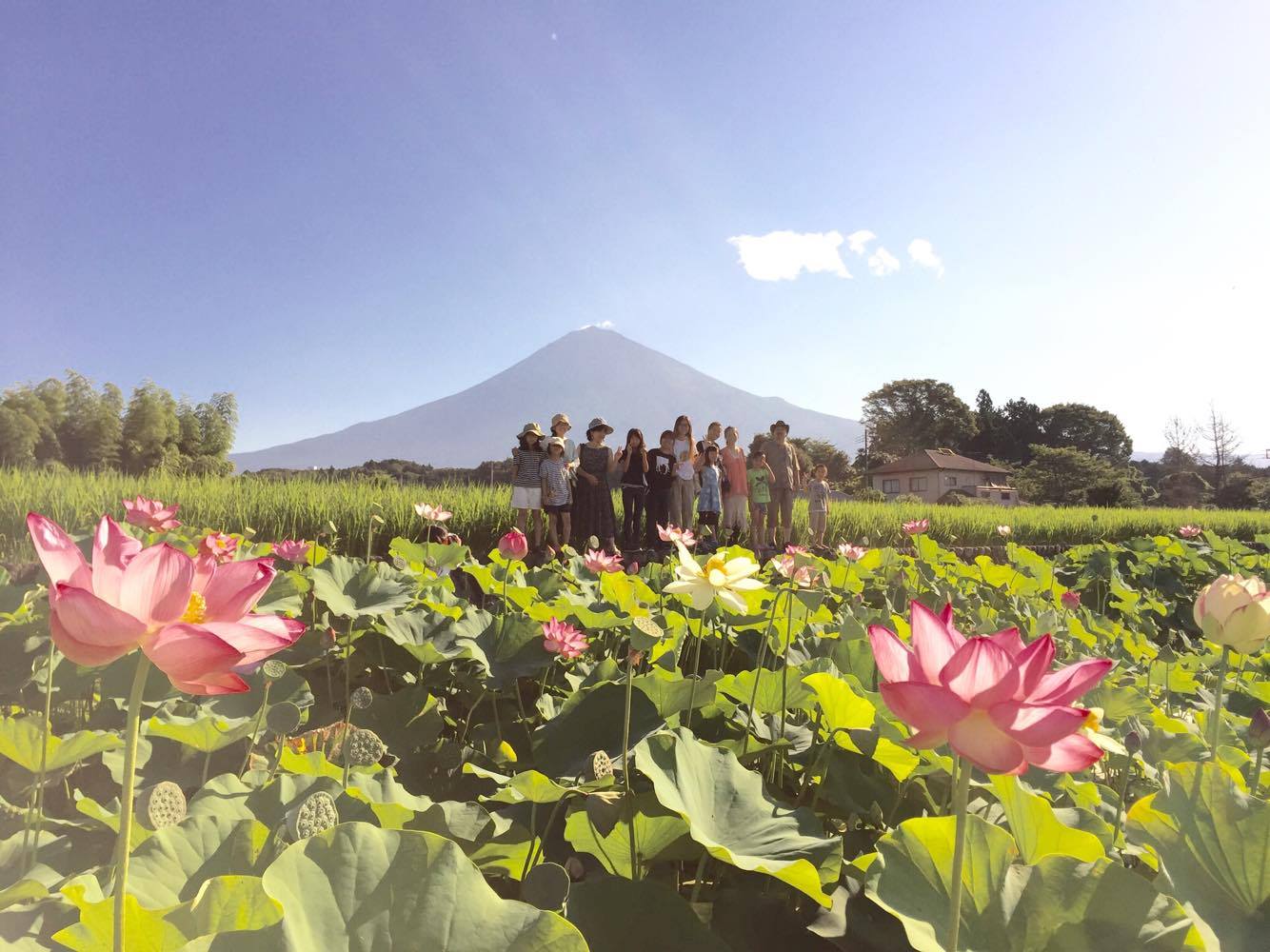 ――
In this way, the divine spirit has spread from the foot of Mt. Fuji to South Korea. The divine story will be continued forever.