"The 21st Century View of Life and Death" Part 3 ~ What is Beauty?
In "The 21st Century View of Life and Death" Part 1 and 2, it was explained that humans were born with a body on earth to purify their souls, and we continue the journey of an eternal evolution, continuing to reincarnate in the multi-structural universe. Then, what is "Beauty" in the first place? In Part 3, we are going to analyze "Beauty" which modern people misunderstand greatly, and deepen the reason why we live in this world.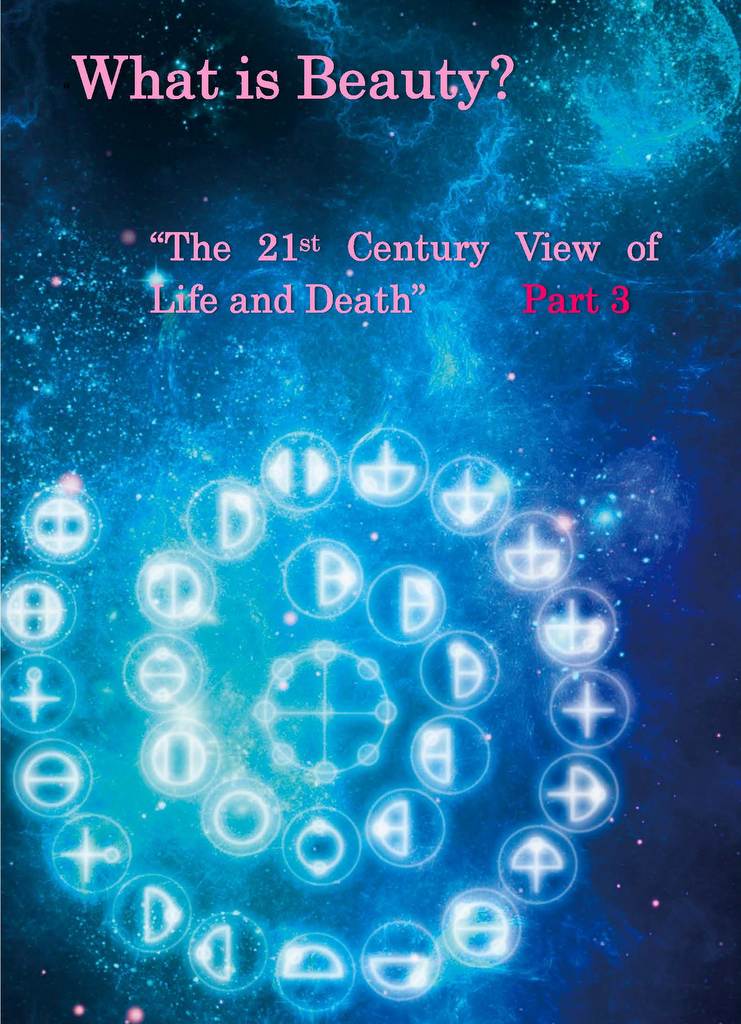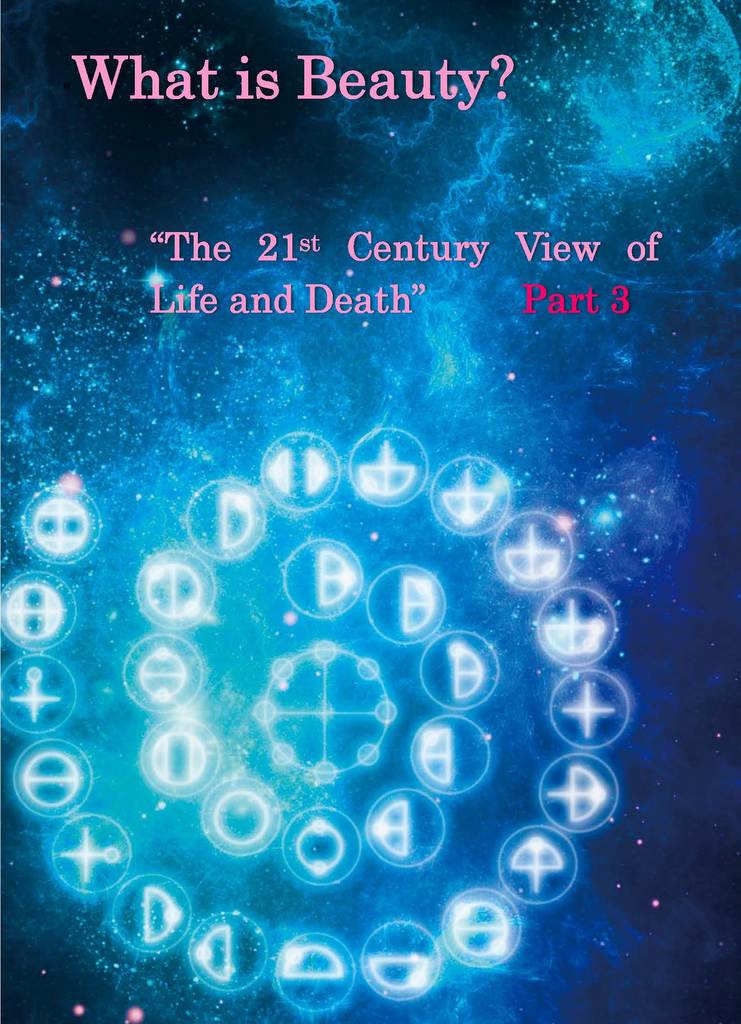 A Journey to an Unknown  World
We live out the universe. There are numerous stars in the universe, and none of them stays in the same place. As the earth orbits the sun, the sun orbits the center of the Milky Way galaxy, and the Milky Way galaxy also orbits an even bigger group of galaxies, all stars infinitely link with each other, become one majestic vortex, and continue to travel together toward an unknown place in the infinite universe.
There is an absolute order, which is the existence of time. Everything in this world boards on a vehicle of time which never stops, and proceeds toward the same direction. Because the earth gets on the flow and runs through the universe together, morning and night comes to earth every day, four seasons are born, and our lives are nurtured.
In fact, there are a wide variety of living beings which are estimated at 870 million kinds on earth. As all stars in the universe are connected with each other under the absolute order, living beings on earth also play original roles, brilliantly link with each other, and establish a world with one connection of life, which is the global ecosystem. It is a very beautiful world. In the flow of time, every single existence is given a life, and repeats birth, life and death. The whole always gains a new life energy, and continues to evolve as one life without staying still.
In such an incessant flow, there is only one existence which goes against it – humans. Other living beings exist as time flows, and fulfill their life according to the system of nature. However, humans who gained ego came to have the mind to hope to "maintain" a specific condition. Such a mind has generated stagnation in the flow, and has brought various issues.
However, as nobody can stop the earth from rotating and revolving, no matter how much we want to maintain a particular flow of time, it is impossible. Looking back on the history of the earth, it has been a succession of changes. Great environmental changes which have knocked the bottom out of the conventional way of being have occurred on countless occasions from the emergence of life to the birth of humanity. Life has repeated mass extinctions each time, and has evolved toward a new kind of existence which adjusts to the next environment. It is a journey to an unknown world which never stays still. It is us, the current humans that have become as a result.
Now, the world has begun to cause various phenomena which break the mold. It means that we are in a great transition period.
We came down as humans on earth in such an era. If "life exists to purify the soul," what would it be like to become beautiful?
---
*As for the history of the life evolution on earth, please refer to the Konohana Family Newsletter Vol.3 "Eraism has Begun."
---
This World is  Beautiful
Pollution is to Go against the Flow of the World and to Deviate from the Nature of the Universe
The Nature of the Universe is to Connect
Each one of us has a different individuality, and lives an original life every day. It seems to have nothing to do with the universe, but as a matter of fact, we are in the system of the universe.
It is the Milky Way galaxy that expresses the system of our life in the biggest scale. The universe expands even beyond the Milky Way galaxy. However, it is a different-dimensional world which we cannot interpret with our senses, because we live within the Milky Way galaxy. Therefore, we are going to trace the structure of life with the Milky Way galaxy as the greatest influence.
Each one of the numerous stars which are scattered throughout the galaxy is very unique. Such countless unique existences mark each cycle, work together without exception, and form the one life of the galaxy. It is the solar system and the global ecosystem that condenses the system and are expressed closer to us. Moreover, it is our body that is expressed closest to us.
Our body is the collectivity of various and complicated functions which consist of tens of trillions cells. Please look at your body. From your eyes, ears, nose, mouth, arms, legs, blood vessels and nerves which are spread around the whole body, bones, muscles, organs with various functions to hair and nails, there is a multiplicity of parts in the body. In every single part, more complicated and minute functions exist, work together without exception, and form one life of you in harmony like a miracle. If they do not work together and exist separately, life would not be able to emerge as it does. That is, the nature of the universe is to connect. Connecting is possible only based on goodwill. That is, the universe is created based on goodwill.
Life is Beautiful
In such a connection of goodwill, all existences board on the common vehicle of time.
After our body becomes fertilized in the mother's womb, it traces a 3.8 billion year history of life evolution from a small life which is just less than 1mm, going through fishes, amphibians, reptiles, to mammals. We are born in this world over 280 days. Then, our body repeats birth and death at a cellular level every day in the circulation of the five natural elements of earth, water, fire, wind and air. We grow up from a baby to a child, then to an adult. Wrinkles are engraved in the skin across the ages, and hair becomes white. When our life span ends, the body without the soul will be decomposed at the atomic level, and become components which will compose the next life. Death is a beautiful moment when we will be released from the conventional connection and return to the circulation of the ecosystem.
In this manner, individual existences continue to change along with the flow of time. The whole, which is the collectivity of individuals, repeat metabolism and always continue to be born anew. This changing figure without stagnation is the beauty of this world.
Beauty is that everything flows without stagnation, changes toward the future and evolves. It is the exact figure of the universe. The universe always moves toward an unknown place and repeatedly changes transforms and transfigures. It is because the universe is life. Life continues to change without staying still. Our body expresses such a system closest to us, and tells us what life is and what beauty is.
Let's Move toward a New World Together
Humans are given an extremely special ability in this beautiful world. In the system in which everything becomes connected and circulates, human who gained ego became conscious of "the self" in particular. With such a high ability, they came to maintain themselves and think of changing the world for their convenience, rather than changing themselves according to the flow of the world. Such a mind has created stagnation in the flow in which everything continues to change, and has generated various contradictions such as lies, tactics, conflicts and isolation. They are opposite from the nature of the universe in which unity is the base.
Everyone seeks a beautiful world; however, the modern society has become a world that prioritizes human convenience and cannot be really called beautiful. Cities which look developed beautifully have generated a vast amount of garbage behind them. Self-centered minds have created conflicts, loneliness, diseases and crimes; which have become rampant behind people who dress beautifully. If we go against the flow and try to control the world by force as we want, it needs a lot of energy. People have collected more and more, hurt each other, scrambled to fight, generated much waste, and ruined the earth and even their own lives. The entire world is full of problems, but it is natural for people to have many issues, and they cannot even recognize that they themselves have created the problems.
Many people look at a visible form and say "It is beautiful." However, the true beauty is in "the mind" behind it. No matter how hard we make the form look beautiful, if the mind behind it is polluted, such a mind will surely become a problem and come back to us. However, if we do not recognize that our mind is polluted, we tend to blame others and the society for the problem we encounter. On the contrary, we pretend that nothing happens.
If the flow in which everything changes without stagnation is the beauty of this world, pollution is the function to stagnate the flow and deviate from the nature of the universe. Modern people have generated this many of problems, but they have avoided seeing the pollution of their mind which is the cause of the problems. However, the basis of the universe is goodwill. If our mind ignores the system of the body, goes out of control, and we drink and eat too much, our body becomes sick and tells us that. In this manner, if people's minds become separated and they live selfishly, the world causes mega disasters, tells us that we cannot live alone, and promotes us to connect with each other. Connecting means weaving life.
If we deviate from this great flow and bring out contradictions to the world, the universe always guides us to return to the flow again. As long as you go against the flow and try to stay at the same place, the universe will continue to give you problems. It is because the universe guides you, saying "Let's move toward a new world together."
In the World like a Miracle
Living a life is not keeping the same self and seeing new scenery, but changing and renewing ourselves through encountering new scenery each moment. When people encounter something new, they tend to look at it based on their conventional path. If it is beyond their understanding, they tend to resist it. They try to protect their current self, and set the world within a range which they can accept. However, when we live in this world, originally, we do not stand at such a position.
The earth is a planet full of lives, which is very rare even in the universe. There is a world like a miracle which nurtures a wide variety of lives. The earth orbits the sun, and the moon orbits the earth. The moon and the sun play a role of yin and yang in a miraculous position from the earth, and nurture living beings on earth. Light and heat which arrive from the sun create the circulation of earth, water, wind and air. The gravitation of the moon causes the rise and fall of the ocean, and circulation of the water. Comparing the earth to the size of an egg, the thickness of the atmosphere is said to be just an egg shell. In such an atmosphere, life breathes. At the same time, the magnetic field of the earth protects the life from harmful solar flares, and moreover, the solar magnetic field protects it from harmful cosmic rays. Because the planets in the solar system mark the accurate cycles around the sun, morning and night repeatedly come to earth, and so do four seasons. The relationship of the solar system exists in a network of harmony which is created by numerous stars in the galaxy. If just one thing becomes out of order, life will not be able to exist on earth as it does. Only when relationships based on such a miraculous balance link with each other, the world where we live can exist. There is nothing which is created by humans.
Many modern people think that they live in this world with their own power. However, the truth is that our life is supported by a vast universal system which is far beyond our understanding. When you let go of the small constraint of the self and understand the universal system which continues to support your life even in this moment, a beautiful world will be revived in you. Then, the universal will becomes your own.
A Story which Continues Forever
Things are supposed to go forward only based on facts in the universe. When humans become one with the universe and express their pure will without lies or tactics on earth, things will become phenomena surprisingly smoothly. Other lives fulfill their life according to the system of nature. On the contrary, humans have their own will and the ability to create this world along with the universe.
When human consciousness becomes one with the universe, a world with infinite free energy will be expressed. Stars continue to race through the vast universe and have never refueled over the 13.8 billion years from the birth of the galaxy. Originally, the universe is an existence with perfect free energy. If we follow the system, everything flows beautifully with very little energy, without any waste. It is a very calm and comfortable world.
People have gone against the flow in such a world with free energy. As a result, they have fought, become tired and become hurt. However, no matter how hard we resist it, the universe surely moves forward. For humans who have gained ego, the existence of the self is very significant. But, looking from the universe, it is just the piece of a figure which expresses the era.
No matter how hard each one of us humans lives on earth, the era surely moves forward with the will. Then, an existence which does not match with the flow will just be destroyed as the conventional history of the earth shows. The era creates a new life which replaces it. In this manner, the story of the universe continues forever.
The Fundamental Mind of the Universe
Humans who gained ego became conscious of "the self" in particular in the world where everything changes, and have brought stagnation to the flow. We can perceive it like this: if it just flows without stagnation, we cannot really know what it is. When we go against the flow and experience the stagnation, we will know what the flow is from such a comparison. Then, if we let go of the constraint which became the cause of the stagnation, and live along with the flow of the universe with the stagnation-free mind, how beautiful our life will become!
In other words, ego is individuality. Each one of us humans has an original personality. Out of a wide variety of living beings which exist on earth, humans are the only kind which is this full of diversity. Humanity longed for beauty, created scripture and models in the past, and tried to copy them uniformly, thinking "this is the right way of living." However, it is a world which is borrowed. If the universal system is based only on phenomena, then truth is not in the world which is borrowed and written in scripture, but in your original path.
There is another important element for beautify, which is diversity. As complicated and various functions form our body, about 870 million kinds of lives weave the global ecosystem, and numerous stars create vortices and travel in the universe, a wide variety of existences become connected, resonate each vibrancy, and become like one life. That is why, an abundant, dynamic and beautiful world will be expressed like a symphony.
The world gave diversity to us humans, and entrusted it to us to express the universe on the common vehicle of time. Now, while we live this life, how much can we reach this truth? You might think that you live a healthy life, but your own daily activities continue to pollute the earth and yourself even now. If you realize this fact and wish for a truly beautiful world, please begin with you first. It is not a difficult matter at all, but we move toward our true life purpose which is sleeping in everyone. When you move toward the purpose and fulfill your life with all your might, you will know what you have brought to this world throughout your life. You will experience your own worth when you leave the body and return to the original place as the soul.
Even if we have lost the purpose, the universe always causes various phenomena and guides us toward awakening. This is the exact will which the universe shows to us —- the fundamental mind is love.
ー The story of the universe ー
---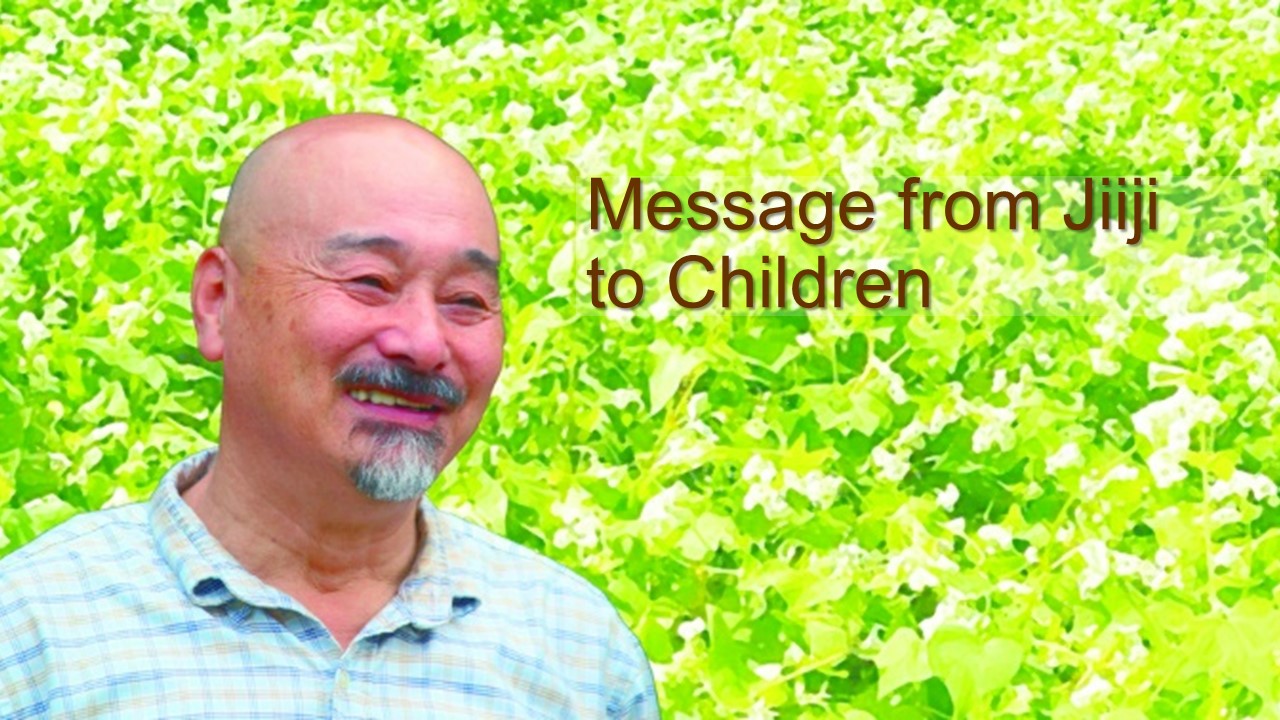 One day, seven Korean children came to play with Jiiji, Mr. Universe who lives at the foot of Mt. Fuji. There was a girl who often lied among them. Her mother asked Jiiji to explain why we must not lie, and he talked to the Korean and Japanese children as follows:
Please Tell a Lie
First of all, do you think it is all right to lie? Or, do you think we must not lie? Jiiji thinks it is all right to lie. In order to experience what is going to happen if we lie, unless we lie, we would not understand, wouldn't we?
Lying is saying what is different from truth. There is only one truth, but there are many lies. Therefore, when people lie, they become clever. Such people will be in trouble if the truth is revealed, so they think a lot in order to continue to hide it. However, such a way of thinking is bad. If bad thoughts increase in the head, this person becomes bad.
Children do lie. So, when you want to lie, please do so. However, there is one important thing when you lie, which is to know that "I am lying now." A lie is different from truth, so when you lie, you will be surely in trouble later. Then, if you know you have lied, you will be able to realize "Oh, I have lied, so things have become like this." If so, it will become an opportunity to quit lying.
If people do not understand that they have lied, when a problem occurs, they tend to blame others, instead of considering that they were the cause. Such people are real troublemakers. Lying in childhood does not make a child a liar, but it will allow them to learn what is going to happen if they lie. However, if they do not understand that they have lied, they cannot learn from lying. They become genuine liars who lie without realizing that they lie. Jiiji has met many adults like that. Adults tell children not to lie. However, in fact, adults lie more than children do. That is, humans lie.
When I grow crops in the field, I encounter various things. First of all, the sun, plants, animals, soil, rain, wind – everything is honest. If crops do not grow well, they tell us honestly where the cause is, such as an imbalance of the soil, unsuitable weather and so on. When fertilizer was applied too much, crops will become sick and tell humans that something is wrong. If humans try to learn from nature all of the time, it never lies and tells us various things honestly. Therefore, when I am in nature, gratitude comes up and my mind becomes very calm.
However, when humans come to nature, lies will emerge. It is because they tend to think of everything for their own convenience. However, it is different from truth, so it will surely lead to problems. Which means, when humans live, problems occur.
When people lie, they think there is a good thing to be had by doing so. That is why, they lie, don't they? However, when we lie, an inconvenient thing which is opposite from what we thought will occur. Although we think we get the benefits in the midstream of life, we are supposed to receive trouble equivalent to our lies in life and die. When we end our life as a liar and are born again next, our life will begin as a liar.
If we continue to lie, our minds become bad. Then, good things will not occur in life. In this manner, this world tells us "it is not good to lie."
Therefore, please tell many lies for learning in your childhood. And please be in trouble many times. Please realize the reason why you are in trouble is that you have lied. Then, you will become a person who does not lie without fail. And please live a beautiful life.
That is all for Jiiji's lecture about lying today♪
---
Living beautifully is expressing the original figure of life. The life begins with sex. In "The 21st Century View of Life and Death" Part 4, the truth of sex which is the source of our life will be revealed!
---
As for a beautiful way of living, if you would like to learn more practically, please participate in the "One Month True School" which is held annually at the Konohana Family from February to March.→Please refer to the One Month True School Blog (in English) for the details!
*The One Month Truth School is a place where you make a breakthrough in your life by analyzing the vast flow of the era and awakening to the true-self which you have been unaware of. This program will allow to you to gain power over your life in the world by going beyond your set ideas and expanding your worldview. We are open for application! Please visit the above link for more details!